Many many moons ago there were ample discussions in various places about an open source re-make of Sid Meier's Alpha Centauri.(AC) None came to fruition that I was ever aware of other than one beta that was abandoned well over a decade ago.
However, I noticed on the Freeciv roadmap
https://freeciv.fandom.com/wiki/Coding
that the 3.0 release is set to incorporate an "Alien World ruleset".(Which can already be plugged into 2.6) What is this ruleset??? Does this alien world have a name? I saw that it is called "Alio" and has some assets, but nothing that really pointed to AC.
https://freeciv.fandom.com/wiki/Category:Alio
I almost brushed it off as just minor tweaks to have fun with a bizarro earth schema, but then I found
THIS
:
http://forum.freeciv.org/f/viewtopic.php?f=12&t=31&start=10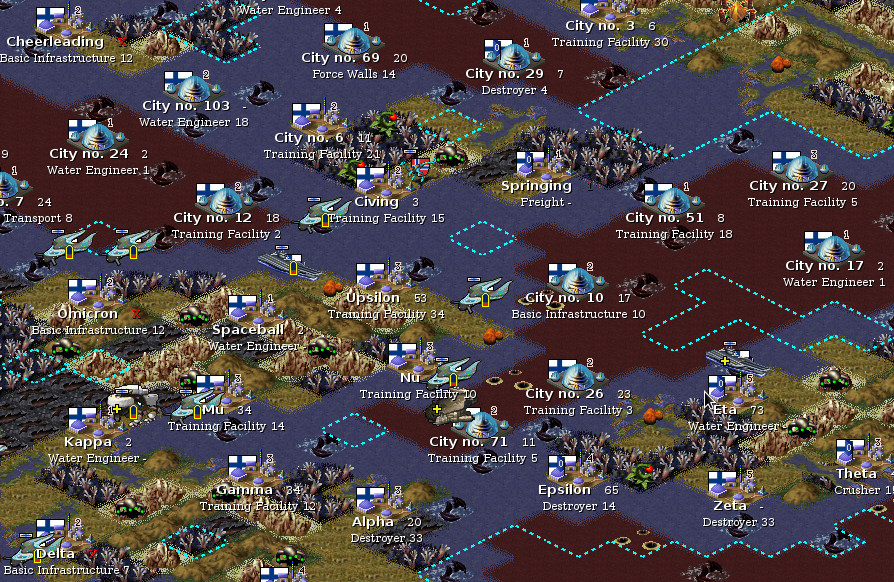 That's AC! That's it!

That's not just Civ! Right? Cities in the deep ocean, unique tree graphics on the land, (some)space ship looking units, very strange looking swamps, and what are those green dot things? Maybe I just want to see the space ships floating(flying) and they really are not, but those are floating. I looked at some actual AC screenshots, and it is clear that there is still plenty left to do if that is the trajectory.
Will FreeCiv move in this direction? I hope so! It's long overdue. I haven't played AC in years but now I really want to.