What about these little optical improvements? Airstrip was hardly visible on bright background.
Attachments

Airstrip.png (1.65 KiB) Viewed 6113 times

Air base.png (2.09 KiB) Viewed 6113 times
---
Raft
Attachments

Raft with guy4.png (1.59 KiB) Viewed 6111 times
---
Maybe these airstrips should be implemented in official freeciv release?

PS. is there any bitmap to freeciv terrain converter?
---
I introduced Streltsy - cheap unit, available (similar to Crusaders) only for Monarchy.

I also decided to remove transport capability of Engineers, because it was overpowered (especially with bombarding artillery),
and moreover, players would not be aware of such option.
Instead, I added Hovercraft, which can move on water or flat land, and can carry one Infantry or Light Cavalry unit,
and can be carried itself by Transport ship.
---
I have proposal of multiplayer tournament on server with augmented2 ruleset.
Because this ruleset is really
augmented
, one session is too short to finish game,
thus my proposal is to run consecutive meetings, one or more hours each day, depending on players free time.
For example we can join server each evening European time, play some turns, leave and continue next day.
Settings of server would be timeout 0, so if players are present, they can make turn done, without players game is frozen
and wait for next meeting.
Eventually, if there is more than 2 humans players and one player is absent, he can be AI-toggled.
---
Any idea how cornac (or mahout - elephant trainer) barracks can looks like?
---
For sake of better game balance, I decided to add "Trireme" flag to all transport coasters such as Trireme, Aak, Barges,
which can transport regular troops along sea and rivers. Now they are restricted to move along safe coast.
The purpose is, that troops can be unloaded from such ship instantly and deployed in same turn, if this ship is on river and tile is suitable for land unit (BTW, rivers are not native for most of land units in this ruleset).
Such tactics make a huge threat of sudden inland attacks far before Marines, thus "Trireme" restriction help to control movement of enemy barges along coast (it is easier to spot them, and one ship can block them, even if there is wide shallow ocean nearby).
Navy coasters, such as Galley, Monitor or Patrol Boat have no "Trireme" restriction, but their transport capability is narrowed to Turrets and Small Land, thus they are less threat as instantly deployed cavalry or bombarding artillery.
Another change is to add special Mahout Barrack improvement, which make add vv (veteran) level to Elephants and require Jainism tech and presence of Jungle (Elephant resource, if present, add 2 trade point here).
Elephants are ancient tanks here, because their HP=20 (for comparison, Horsemen HP=12, Pikemen HP=14, Knight HP=16),
and additionally Pikemen have no defense bonus against them, thus Elephants can't be improved in regular Stable Barracks because it would be overpowered.
Currently there is following Barrack system adding vv level:

Barracks I, Barracks II: Melee Infantry, Gunpowder Infantry
Stables Barrack: Horse Cavalry (and Chariot in case of Despotism)
Mahout Barracks: Elephants
Workshop Barracks: Wheeled Units, Big Land, Mech. Inf.
---
What do you think of the hussite wagenburg as a special unit for a fundamentalist government?
---
XYZ wrote:What do you think of the hussite wagenburg as a special unit for a fundamentalist government?
Wheeled Unit with strong defense? Good idea.
Meanwhile with the latest update I tweaked terrain transform pattern: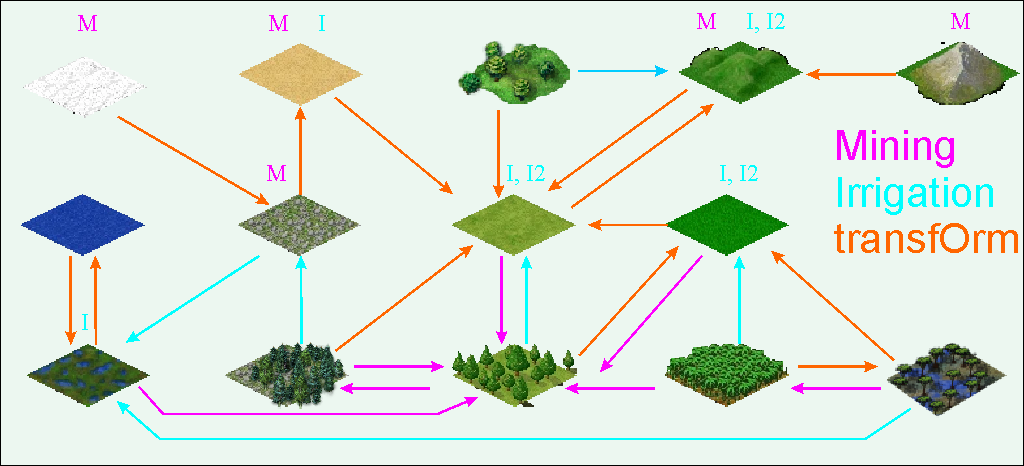 There are 2 groups of terrain, "wet" (swamp, jungle, grassland) and "dry" (forest, taiga, plains) and it is possible to shuffle between them
using mining/irrigation, or to shuffle between "we"t and "dry" using tundra in rightbound direction or forests in leftbound direction.
Swamp is hard accessible without transform, especially from "wet" tiles, and it is by design, because it is a key terrain - it can be used as a source of water for irrigation (salt water is not before Electricity) or can be irrigated into sea tile.
---
I updated wiki up to the latest 2.6.lt15 longturn branch of this modpack. Single player version (with 1x movement) is deprecated.
---
---