Not sure where to post it, but this place seems to be ok for reports about my final test game with augmnted2 modpack.
Game is running on server, so no cheating, 11 AI with various difficulty levels (most of them Hard) vs me, playing Vistulans.
You can also join and observe current state of the game (server is announced on metaserver)
This is longturn version of augmented2 ruleset, movement x2 and more strict limits of empire size.
At the beginning 5 Tribes and one Canoe started to check surroundings and make first settlements: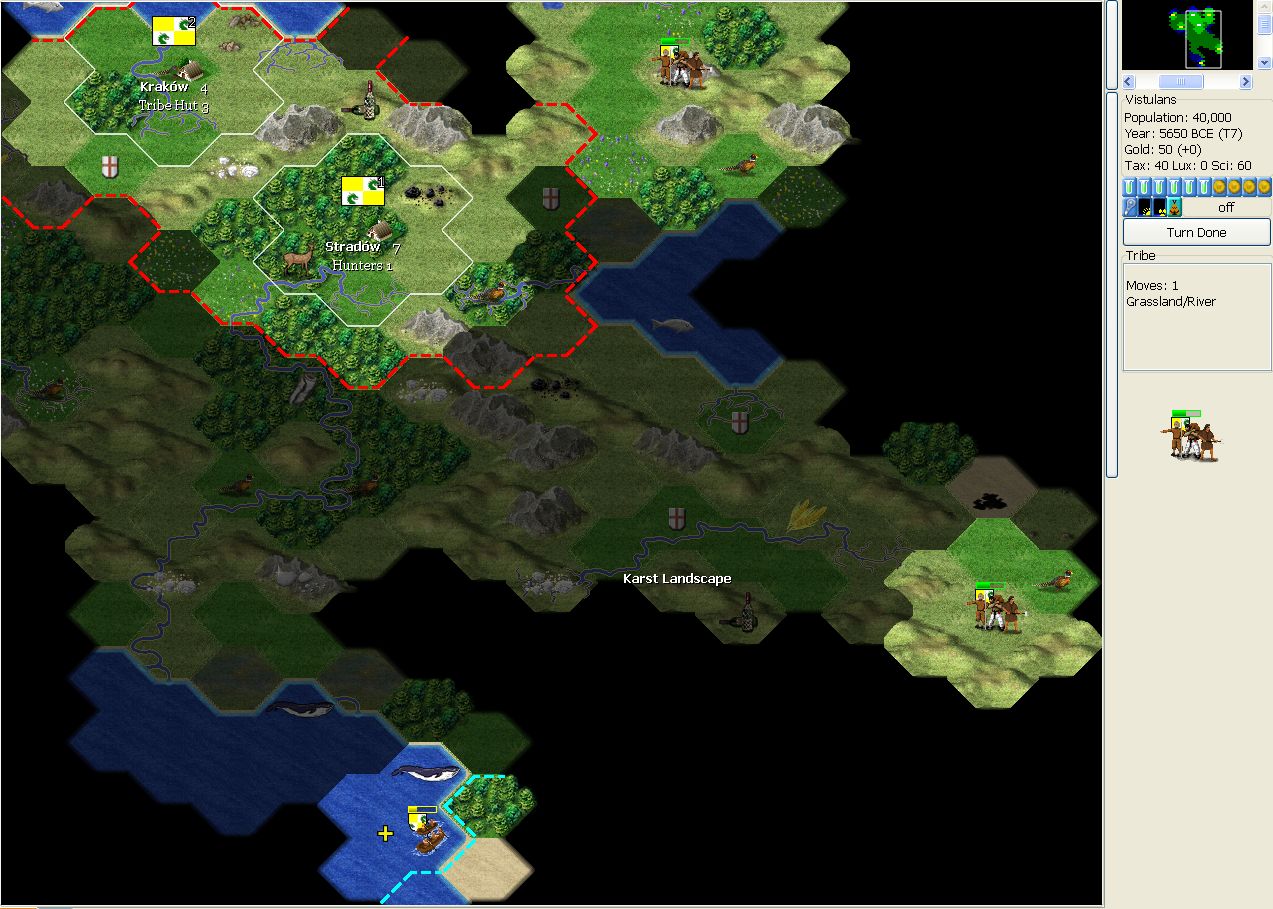 Unfortunately canoe didn't found any foreign land before 10 turns and was disbanded.
What is worse, one tribe died before reach suitable place for a new town, but Krak found friendly mercenaries in one hut.
Also boundary of Norwegian neighbor was discovered in the South (did earth poles swapped?)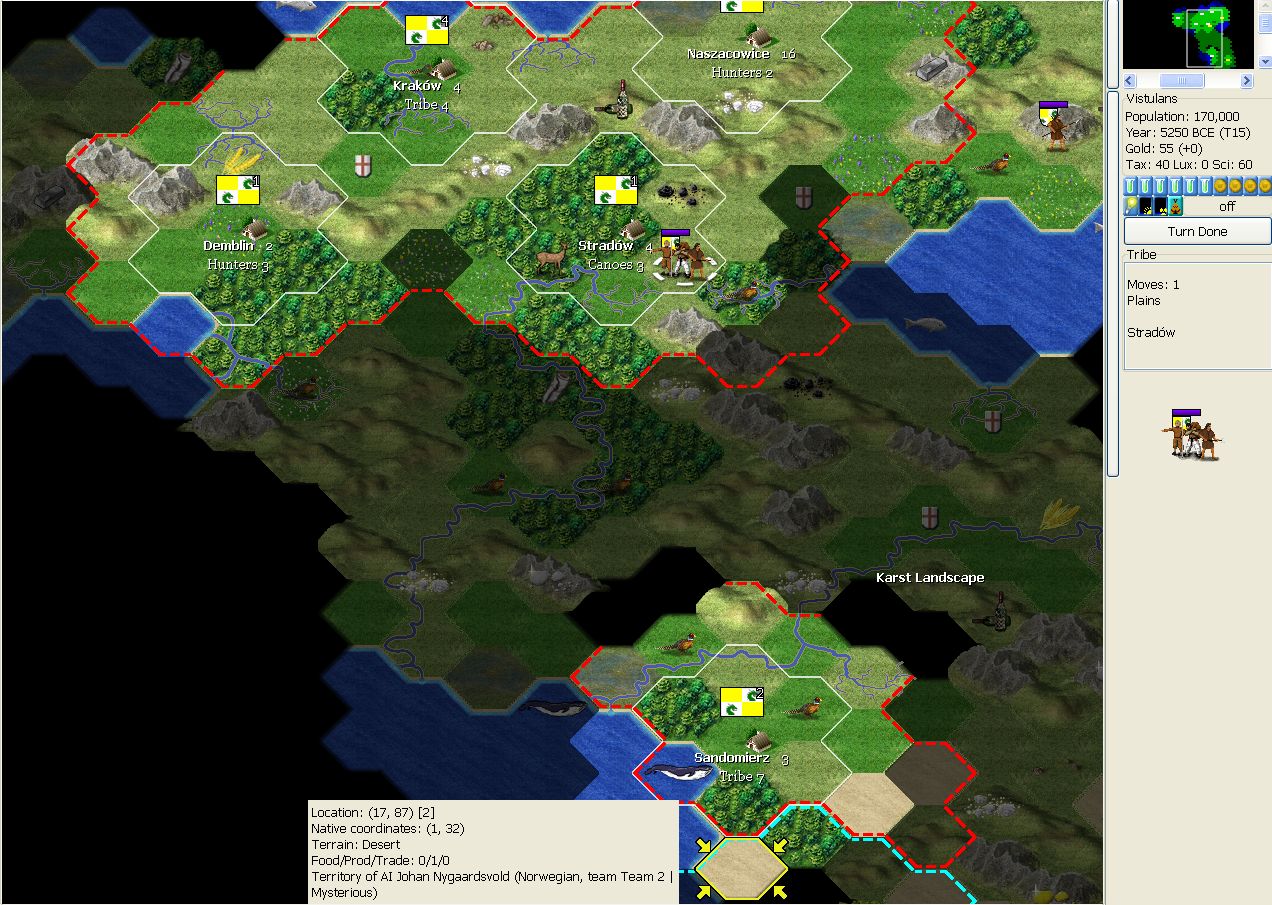 These boundaries give asumpt to set Warrior Code as a research target.
It is not possible to seize enemy city with small units such Tribe or Militia, Warrior Code allow Skirmisher as a first fully offensive unit.
Gold and Science income is suppressed under Tribal gov., thus 6 cities yield only 2 research point with maximum of 60% science tax rate: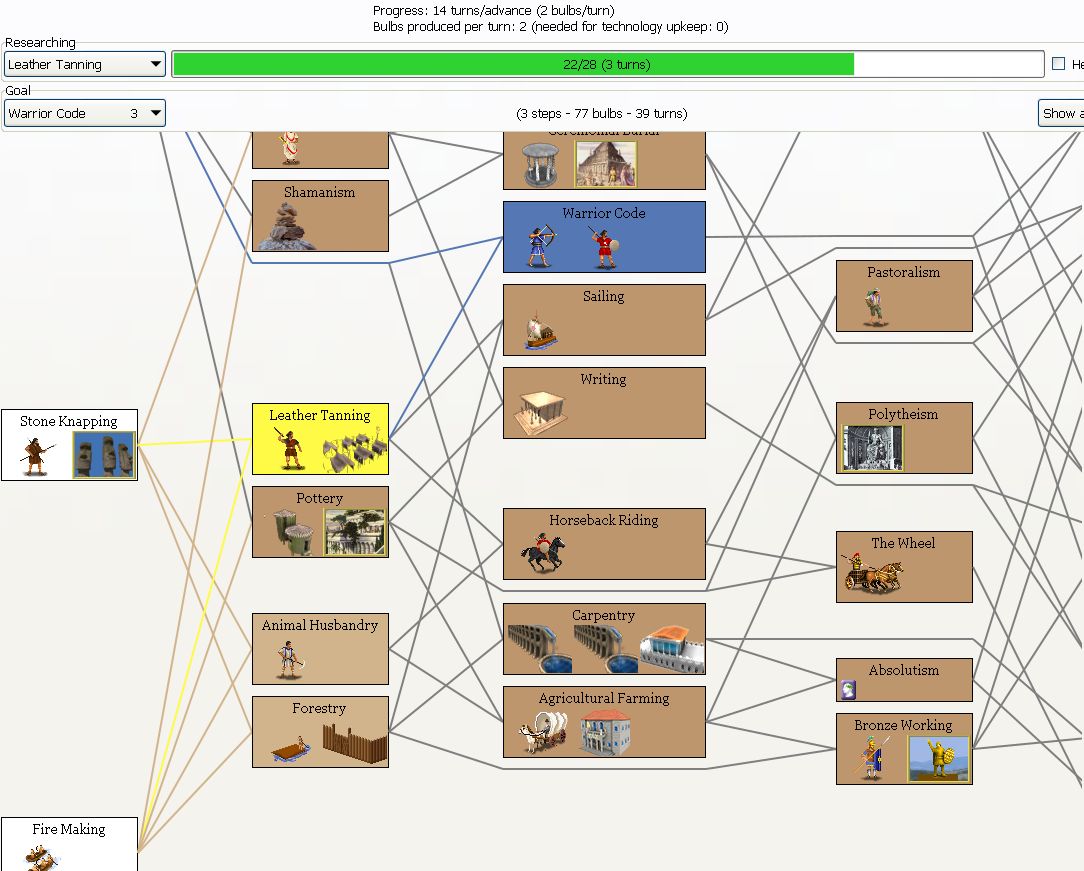 Krak wasted some time searching good spots for towns, thus after 15 turns I was on 10th place of population, but first for Land Area (killunhomed is in use here to restrict such strategy

After 20 turn, in 5000 BCE, Krak started to make some Dirt Roads for faster transport and trade income, new Canoe and few Hunters was ready for exploration, and construction of first Infantry Barracks started. Last upkeep-free Tribe was about to set their foot on the ground.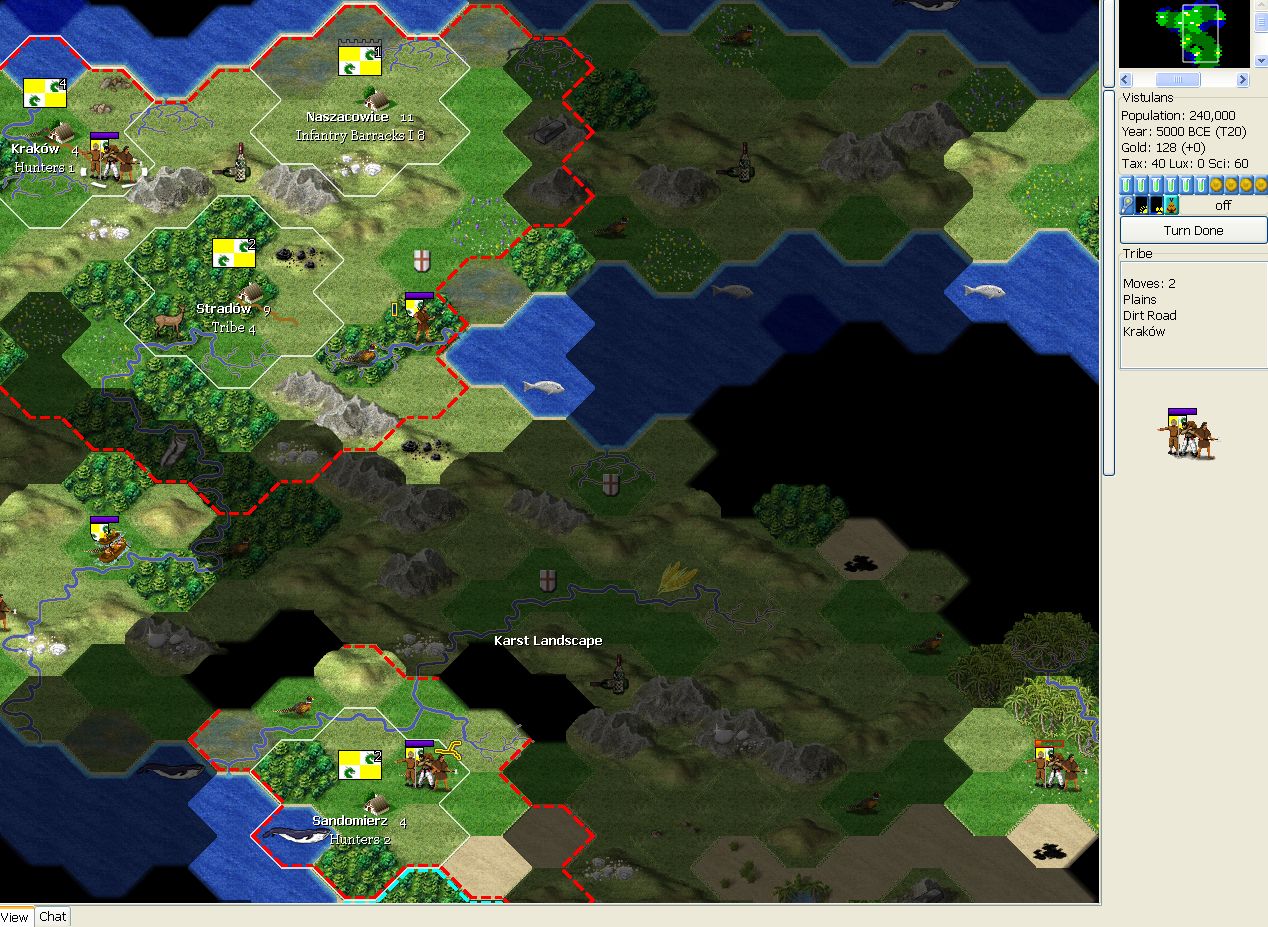 In next 10 turns Warrior Code was almost gained, and Shamanism was a next target. With 7 towns, 2 more settlements would cause additional unhappiness. Krak also discovered another neighbor on the western peninsula: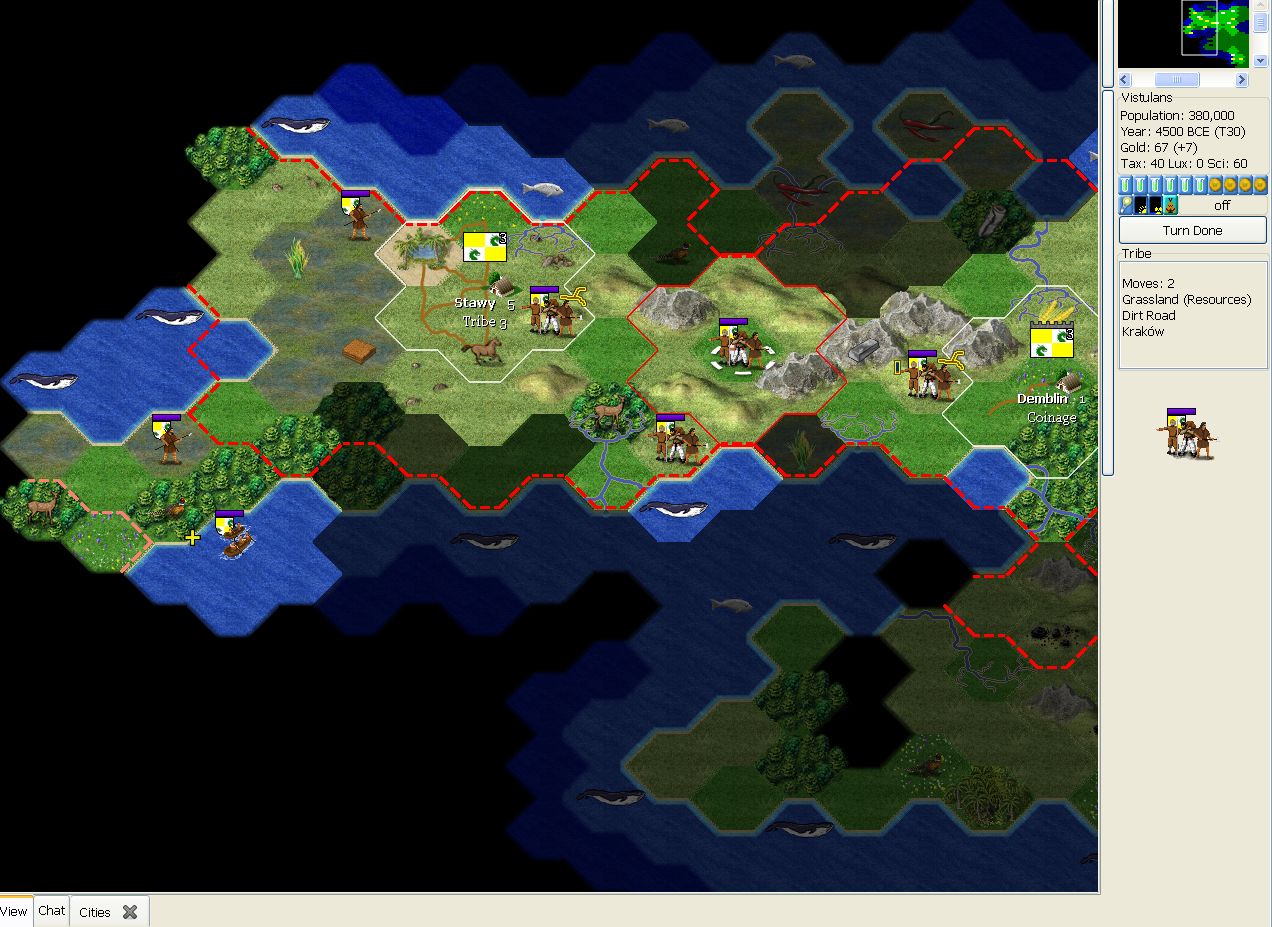 While further exploring, Krak discovered in 4000 BCE that his neighbor Pereira have settlements on both westbound long peninsulas.
Did he hopped between them using his canoe, or their are connected elsewhere? Krak sent Canoe with Tribe to catch some strategic points, and push it further with Archers to continue exploring: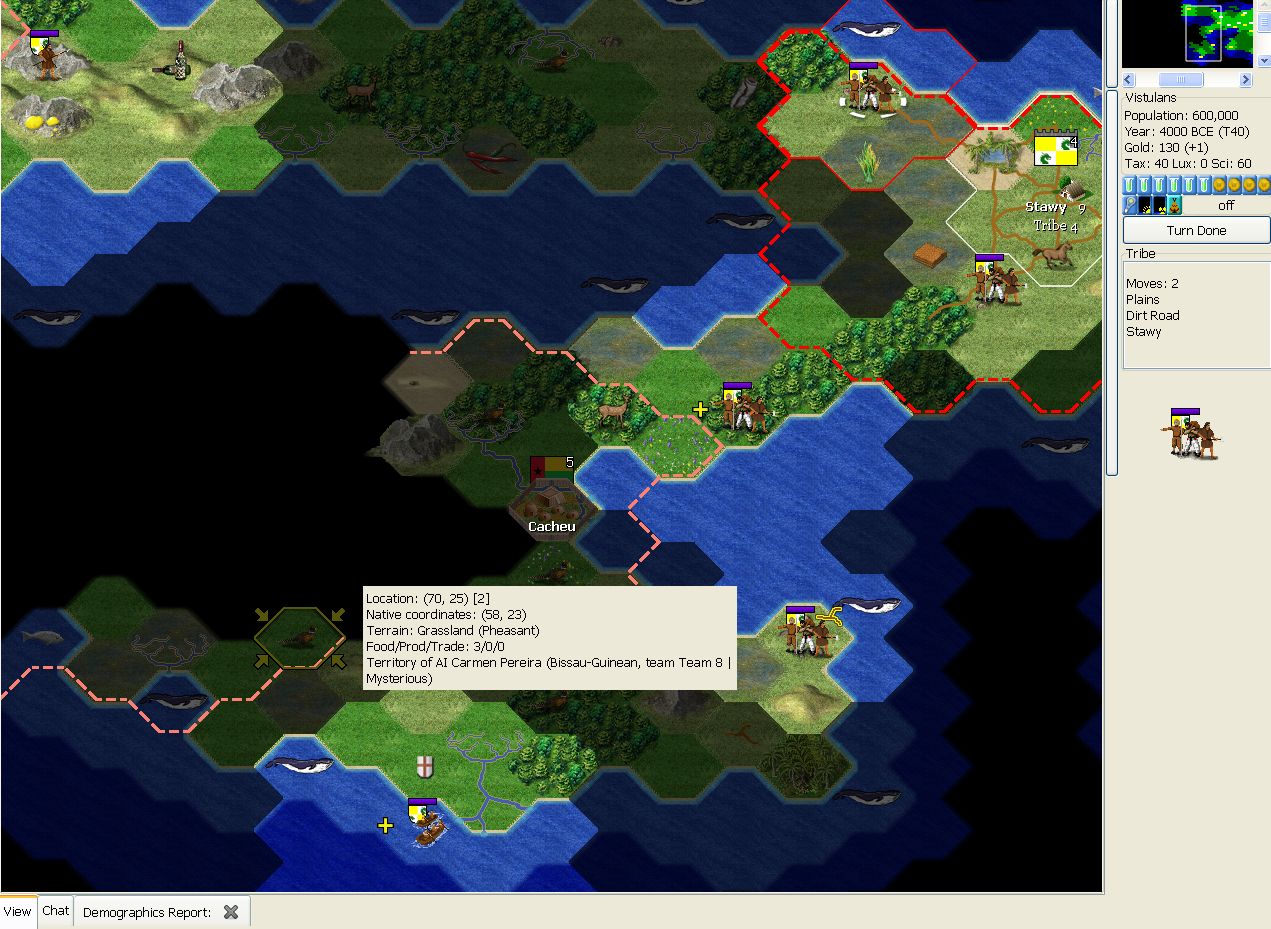 After 50 turn Krak was ready to expand his properties. City Stavanger had gates widely opened, and important resources nearby: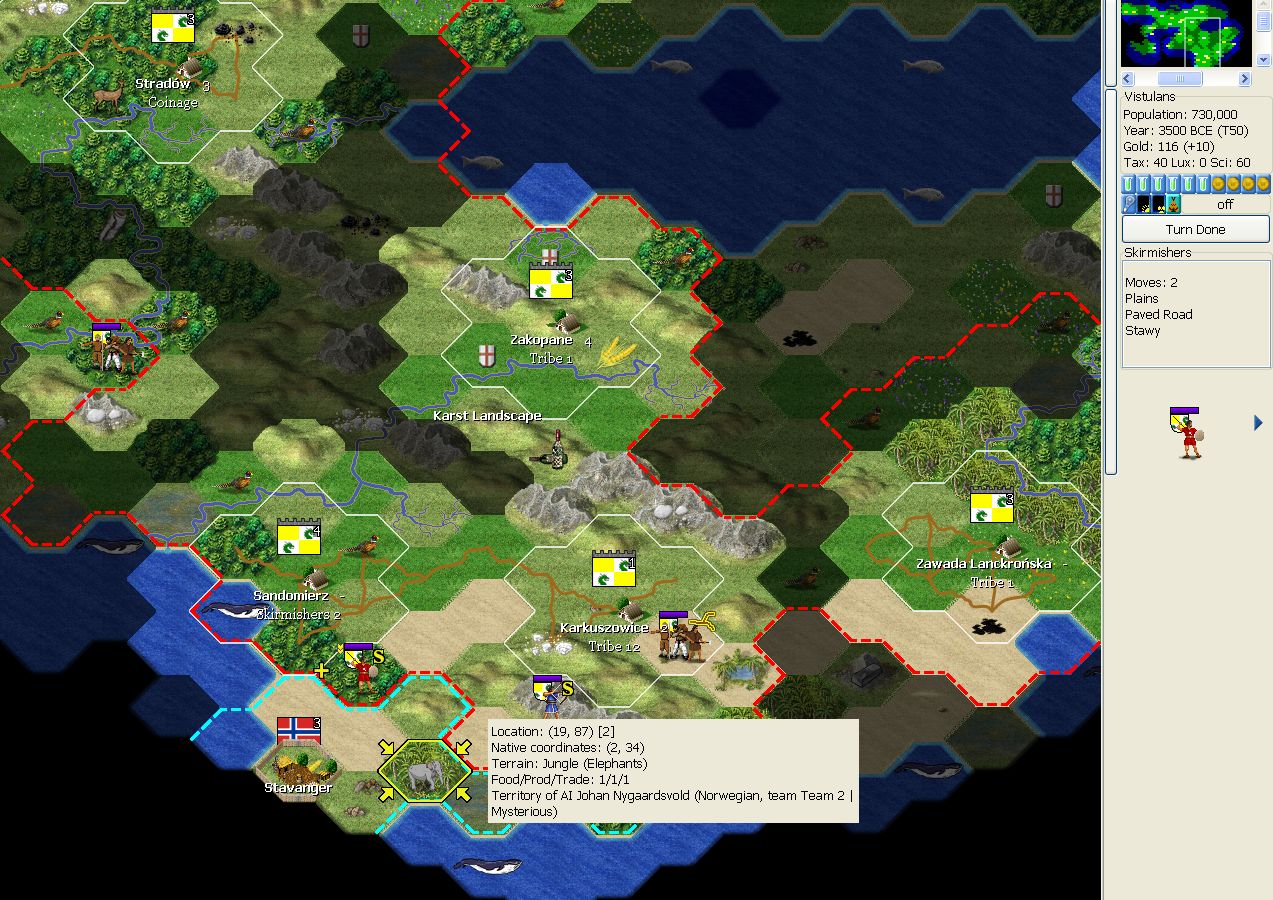 At this moment, Vistulan were third in population ranking and with only 12b/t, fourth in science. Time to get Alphabet to make some embassies.
In 3000 year BCE, cease-fire diplomatic agreement between Pereira and Krak was signed. Also Nygaardsvold asked for cease-fire, when his Stavanger was captured by Krak's units. Krak agreed instead of continue war, because with 16 cities it was not easy to maintain additional angry enemy citizens. Beside tis, Stavanger surrounded by Palisade was perfectly located on strategical isthmus: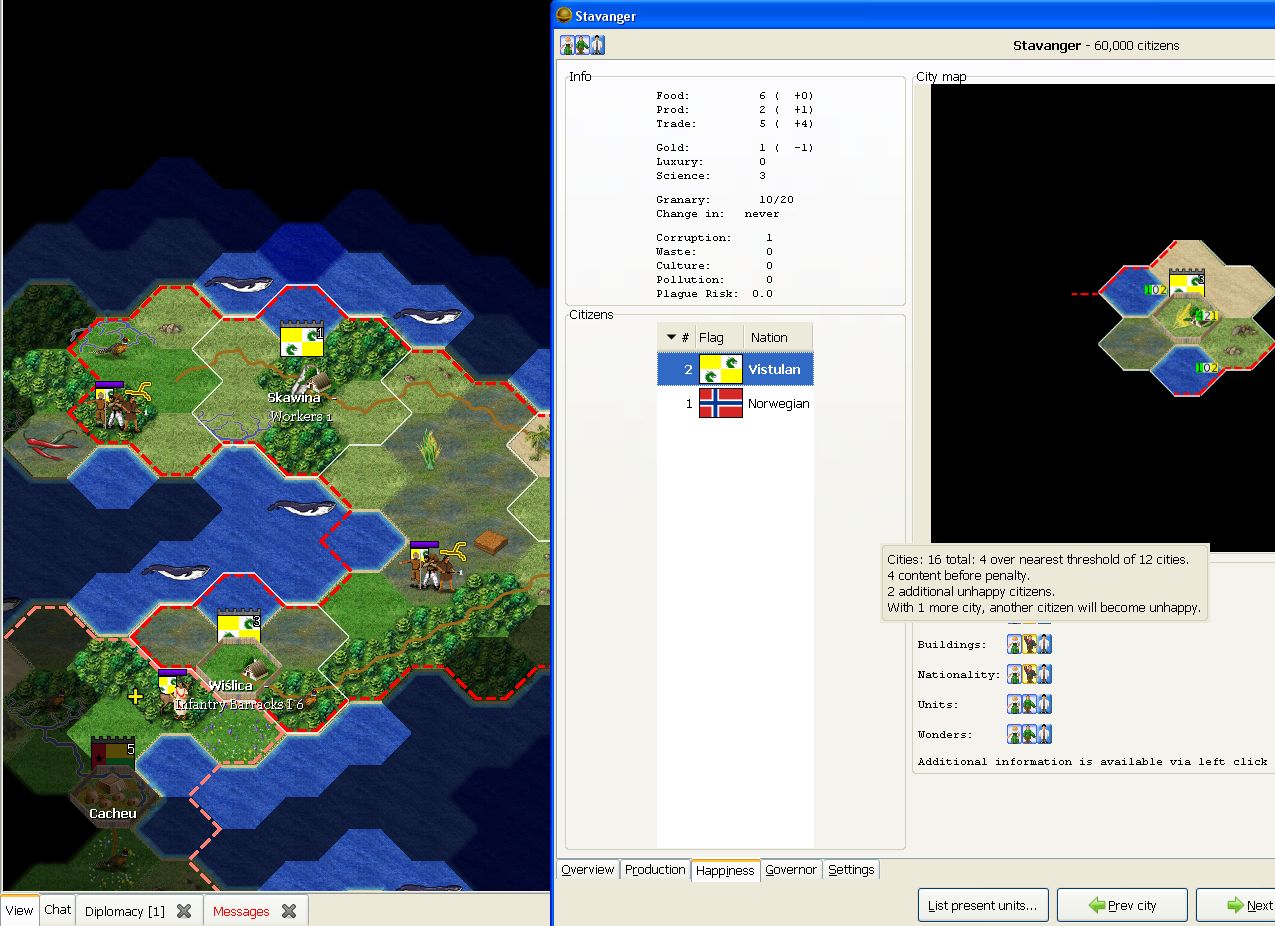 to be ctd.